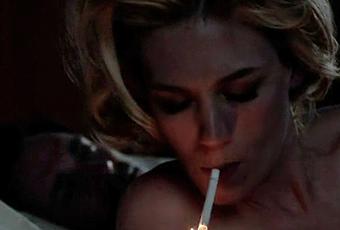 La Mujer. Punto.

Este año le salieron a la serie de Weiner las primeras críticas de calado real. Algunas tenían razón, otras simplemente le tenían ganas al padre de la criatura. Mad Men no fue la mejor serie de 2013, pero sigue jugando por el título. Le faltó este año un "EL capítulo" y lo perdido que estaba Don Draper le pasó factura al primer tramo de temporada, pero joder, Mad Men sigue siendo una gozada, sobre todo sus guiones (y Elisabeth Moss DIOSA).
Secretos de moda ¡Jo qué noche!

Esta tercera temporada ha sido sin duda la mejor de Game of Thrones. La que menos aristas ha tenido (aunque tuvo tramas más flojas que otras) con los Lannister capitaneando el barco (para mi regocijo) y una Khalisee recuperada para la causa. Hasta Jon Snow me pareció más interesante. Lo mejor, como siempre en GoT, los fascinantes juegos de poder. Ah, y claro, la puta Boda Roja (vaya trabajo de dirección el de Nutter en ese capítulo…), que ya es historia de la televisión.
#perrasnórdicas, de mayor quiero ser danés

Tercera mención a Dinamarca (<3 <3 <3) en esta lista. Directo desde Copenhagen llega el mejor drama político de la televisión desde The West Wing. BOOM. Ala, ya lo he dicho. Borgen seguía en sus dos primeras temporadas los pasos de la líder de un pequeño partido que por una serie de acontecimientos llega a convertirse en PM. Seguía. La tercera temporada ha jugado con otro molde y hasta aquí puedo leer. Ese triángulo complejo y peligroso compuesto por política, medios de comunicación y familia sigue funcionando a las mil maravillas. Borgen es una serie que radiografía la política y la sociedad danesas (escandinavas me atrevería a decir) y se las presenta a un espectador que cree inteligente. Y esa postura, la de confiar en la inteligencia del espectador es digna de ser aplaudida. También la de defender una televisión pública de calidad e independiente o la de meter el bisturí en el anquilosado sistema de partidos.
Y todo saltó por los aires

Lo malo de tomar en consideración el año natural en lugar de la temporada televisiva es que muchas veces no sabes que estás analizando, en el caso de The Good Wife el segundo tramo de su 4ª temporada y el primero de su 5ª. Por suerte ambos son la ostia. Así, sin más rodeos. Pero con lo que los críticos y los espectadores se están quedando es con el arranque de esta temporada. Simple y llanamente soberbio, con boda roja florickiana incluida. Si gente como Shonda o Sutter se sacan los giros de la manga, los King se los trabajan durante 15 capítulos. Por eso The Good Wife está aquí, porque ninguna serie cuida su escritura como ella. Alicia no es la buena esposa del título, hace tiempo que ha dejado de serlo, mucho más del que nos pensábamos, está jugando ya en la misma sucia liga que el resto. Y amo eso tanto como la amo a ella.
Nada que añadir

Curiosamente es la primera vez que escribo sobre la segunda parte de la última temporada de Breaking Bad. Esa puta locura. ESA PUTA LOCURA. Sí lo había hecho (a mis amigos, lo siento fellas) sobre Ozymandias. Cosas como "posiblemente el mejor capítulo que haya visto en mi puta vida" o "han cogido un poema del puto Shelley y han hecho el capítulo central de la serie sobre él, sobre sus cimientos, joder, putos genios" (sí, uso mucho puto, lo sé). Y casi todo es aplicable a la recta final en general. La perfección era esto. Sembraron durante un lustro y ahora se han hinchado a recoger. El tiempo nos lo dirá, pero empiezo a ver meridianamente claro que Breaking Bad es una serie de las grandes de la historia teniendo unos niveles de calidad medios distintos a los de sus rivales. The Wire y The Sopranos mantenían más o menos el tipo en todas sus temporadas (para gustos colores) pero, seamos sinceros, la primera temporada de Breaking Bad simplemente "está bien" y la segunda "está muy bien", el resto, bombas cada vez de mayor alcance. Yeah science!