Más allá de los grandes autores televisivos (Simon, Weiner, Sorkin, Gilligan, Ryan, Winter…) y de una nueva generación de creadores (Esmail, McKinnon, Dunham…), hay dos nombres que acumulan hoy por hoy mucho poder e influencia en la televisión estadounidense: Shonda Rhimes y Ryan Murphy. La primera reina plácidamente en el territorio dramático de las networks, el segundo, trabaja a caballo entre el cable y la televisión en abierto. Ambos, al igual que la mayoría de los autores del cable que hemos mentado anteriormente, trabajan siempre con las mismas cadenas, Rhimes con ABC, Murphy con el conglomerado FOX (con la network del mismo nombre y con su canal de cable, FX). A pesar de que no despiertan la unanimidad crítica de otros grandes nombres y que tampoco ejercen un control tan férreo sobre sus series, es innegable la autoría de ambos sobre sus producciones. Su influencia es tal, que me voy a tomar la licencia de emplear los conceptos shondismo y murphysmo (perdón si puede resultar sexista usar el nombre de ella y el apellido de él, pero Shonda es Shonda y Ryan es un nombre muy random). Lo haré para analizar los caminos que ambos están emprendiendo. Para ello, parto de la teoría de que mientras Rhimes se abre cada vez más a todo tipo de públicos y su influencia ha desbordado a su propia productora, Murphy hace series para sus seguidores, cada vez más inaccesibles para otro tipo de espectadores, profanos en su mundo.
La actual programación de ABC podría dividirse en dos tendencias, por un lado las series familiares (Once upon a time, Modern Family, The Middel, Blackish, Fresh off the boat…) y por otro, los dramas culebronescos, que estén o no producidos por Shondaland (la productora de Rhimes) son, en su práctica totalidad, puro shondismo. Así, tenemos el bloque de la noche de los jueves en el que se emiten las tres series de Shondaland: la veterana, Grey's Anatomy, la canónica, Scandal (Escándalo para los amigos) y la aperturista, How to get away with murder. Pero también series que se mueven por parámetros parecidos, como la veterana Nashville, con sus peleas de bitches, sus corruptelas y sus líos empresariales, o la debutante Quantico. Si el estreno la temporada pasada de HTGAWM, marcaba una nueva fase de expansión en el universo Shonda, al ser una serie de su productora pero en la que ella no escribe ni ejerce de jefa, Quantico supone la confirmación de que el shondismo se ha apoderado de ABC. La serie, que se centra en una agente del FBI acusada injustamente de cometer un atentado terrorista, es una especie de Homeland pasada por el filtro del shondismo, con sus líos de alcoba, sus torsos sudorosos y, sobre todo, sus giros de guion loquísimos. La serie está contada desde dos líneas temporales, por un lado el pasado, en la academia del FBI, que recuerda, inevitablemente a Grey's y Murder. Por otro lado, el presente, que va más en la línea de serie conspiranoica pura, que tanto gusta en USA, y con la que juega de forma muy efectiva Scandal. Lejos de anquilosarse, el shondismo sigue abriéndose a nuevos géneros y temas, adaptándolos desde un estilo narrativo claro y que mezcla diversión sin prejuicios, incluso mamarracha, con seriedad (otra cosa es que al espectador le parezca seria la mezcla). En la midseason llegarán a ABC, una nueva serie de Shondaland, The Catch, y otro drama conspiranoico con una guionista, salida de esta factoría, detrás, The Family.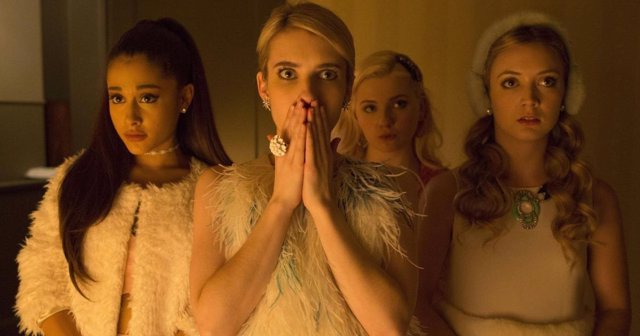 Si el shondismo se expande y no exige fidelidad(espectadores que no ven Grey's en cambio se acercan a Murder, por ejemplo), el murphysmo se contrae y se vuelve casi una religión. Su nueva serie, Scream Queens, no deja de ser la fusión de las dos principales ramas de su universo: la teenager (Popular, Glee) y la "adulta" (Nip/Tuck, American Horror Story). No hay nada nuevo. Es el Murphy de siempre elevado a la máxima potencia. Por eso Scream Queens está llamada a enamorar a su público objetivo y resultar chirriante para todos los demás. Ryan Murphy y Brad Falchuk escriben, únicamente, series para sí mismos. Si te gustan bien, sino, vete a otro lugar. Su universo funciona por contracción, casi como si estuvieran destilándose a sí mismos, persiguiendo la esencia última de su obra. Esto se ve en Scream Queens pero también en American Horror Story: Hotel. Si el shondismo aplica su fórmula base a nuevos productos, intentando seducir a nuevos espectadores, el murphysmo reutiliza tanto géneros como fórmulas para seducir a los ya seducidos. Una corriente busca cazar al público generalista, la otra se enfoca a su público nicho, y si de paso incorpora nuevos espectadores, mejor, pero no es prioritario. Así, Scream Queens es vista (y defendida) por los seguidores más fieles, no son muchos pero son ruidosos y están entregados a la causa. Las bajas audiencias se ven compensadas por la alta repercusión social. En cambio Hotel, ha arrancado con muchos espectadores, entre los cuales hay convencidos y escépticos. Estos últimos no son nuevos espectadores, y aquí está el quid de la cuestión, sino antiguos convencidos que hoy se acercan a la marca AHS y universo de Murphy con cautela. ¿Por qué? Porque en su afán ser cada vez más excesiva, mamarracha, esteta, banalmente violenta y pura, la serie ha terminado por expulsar a los seguidores que no creen en el estilo narrativo del tándem Murphy/Falchuk a pies puntillas. AHS comenzó siendo una serie de terror (más bien un thriller psicológico) con toques de humor netamente murphyanos, para convertirse en un show murphyano con trazos, dejes y reminiscencias del thriller psicológico y del cine de terror. El cambio ha sido lo suficientemente grande como para disminuir el número de fans entregados, pero a la vez aumentar la entrega de los mismos. Por ahora seguiré viendo Hotel, pero ya me he bajado de Scream Queens, no es una serie para mí. Eso sí, no han engañado a nadie, Coven, Freak Show, Hotel y Scream Queens han dado lo que prometían: Ryan Murphy en vena.