10. Get the rope de The Knick.
Dirigido por Steven Soderbergh. Escrito por Jack Amiel y Michael Begler.
The Knick no es una serie fácil. Es una ficción gélida y distante. Casi siempre desasosegante y muchas veces hasta desagradable. No busca empatizar con el espectador. Sin embargo también es, constantemente, hipnótica. Soderbergh no se embarcó en este proyecto para cobrar el cheque. Es, sin duda alguna, uno de sus mejores trabajos como director. Por ello que la Academia haya reconocido su compleja e innovadora labor nominándolo a mejor director por este episodio es justo. La forma en que el director rodó unas sucias y terribles revueltas raciales es para sacarse el sombrero y aplaudir. Este drama sobre cirujanos a comienzos del S.XX es una serie poderosa y diferente. Ahí reside su importancia.
9. Five-O de Better Call Saul.
Dirigido por Adam Bernstein. Escrito por Gordon Smith.
Este capítulo, conocido popularmente como Better Call Mike, es además de un enorme vehículo de lucimiento para dicho personaje, una desgarradora reflexión sobre el peso de la culpa y el ansia de venganza. Dirigido con maestría por Bernstein y escrito con precisión por Smith, que está nominado al Emmy a mejor guionista de drama por este episodio, Five-O se te clava en la retina. Sensacional.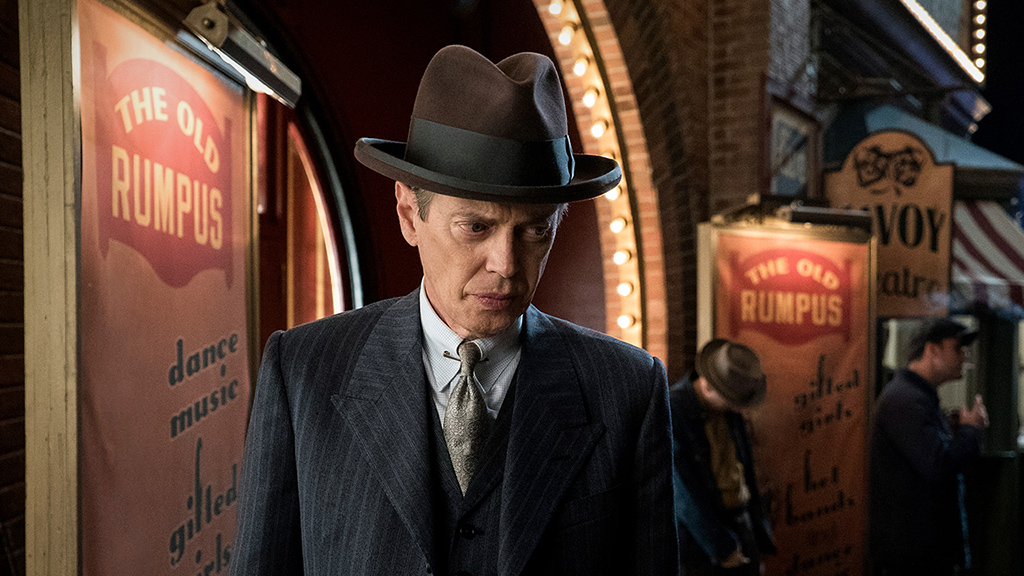 8. Eldorado de Boardwalk Empire.
Dirigido por Tim Van Patten. Escrito por Howard Korder y Terence Winter.
Hemos llegado a la última estación. Se ha terminado uno de los relatos televisivos más ambiciosos y fascinantes de los últimos años. Y lo ha hecho por todo lo alto con el melancólico y grisáceo Eldorado, dirigido por ese maestro llamado Tim Van Patten, que suma una nueva nominación por esta serie al Emmy. Única mención para un drama que fue perdiendo visibilidad con el paso de sus temporadas. Una pena, Boardwalk Empire no era perfecta, pero cuando acertaba, te dejaba tiritando.
7. There's Something Else Going On de Homeland.
Dirigido por Seith Mann. Escrito por Patrick Harbinson.
Nos estamos perdiendo algo. Nos estamos perdiendo algo. Efectivamente, Carrie tenía razón. Algo no cuadraba en el complejo puzle de esta temporada en Homeland y cuando nos dimos cuenta fue ya demasiado tarde. Vi los últimos 15 minutos de este episodio con la boca abierta y los puños cerrados. Pocas series pueden resultar tan tensas y excitantes como Homeland. Muy pocas. Un capítulo dirigido y escrito magistralmente. Sensible y feroz.
6. Guest de The Leftovers.
Dirigido por Carl Franklin. Escrito por Damon Lindelof y Kath Lingenfelter.
Tras el fantástico Two boats and a helicopter (1x03), The Leftovers confirmó con este sexto episodio que era una serie a la que había que prestar mucha atención. Guest, el capítulo dedicado a Nora, es hipnótico y desolador. Uno de los episodios más tristes de la temporada televisiva. Ver a esta mujer rompiéndose poco a poco hasta ese final aterradoramente catártico quema. Franklin sabe pegarse a Carrie Coon como una lapa, persiguiéndola hasta el derrumbe.
5. Mother's Mercy de Game of Thrones.
Dirigido por David Nutter. Escrito por David Benioff y D.B. Weiss.
Shame! Shame! Shame! Como ya pasara el año anterior con The Children, todas las tramas de la temporada terminan de explotar en este festival narrativo, que nos deja para la historia el paseo de la vergüenza de Cersei Lannister y los minutos más comentados del año televisivo: ¿qué pasó al final del capítulo? ¿qué pasará a partir de ahora?. Es el único episodio nominado en los Emmys tanto en dirección como en guion.
4. Hardhome de Game of Thrones.
Dirigido por Miguel Sapochnik. Escrito por David Benioff y D.B. Weiss.
Hardhome es el mayor alarde técnico de la temporada. Por ello la ausencia de Sapochnik en la categoría de mejor dirección resulta tan sorprendente. Los 30 minutos de acción que tiene el capítulo te dejan exhausto y destrozado. Todos y cada uno de los segundos de la estancia de Jon Snow en Casa Austera son terribles y tensos. Diversión en esta puro. HBO quemando billetes como si no hubiera un mañana (lo cual se notó, por ejemplo, en el penúltimo episodio). Pero además, el capítulo tiene dos secuencias fabulosas entre Tyrion y Daenerys, pura teoría política envasada en diálogos chispeantes.
3. Lost Horizon de Mad Men.
Dirigido Paul Abraham. Escrito por Semi Chellas y Matthew Weiner.
Don huye. Joan se planta. Peggy vuela. Lost Horizon es un episodio catártico para los tres. Un punto de inflexión vital. Es aquí, ya llegando al suelo, cuando Don acelera su caída. Joan pone el broche a su viaje de empoderamiento. Y Peggy asume su realidad, su vida, sus deseos y sus frustraciones, las mete en una caja y emprende el camino hacia un futuro prometedor. Es un capítulo muy importante para Mad Men en cuanto a macro-relato. Semi Chellas y Matthew Weiner están nominados al Emmy por este guion tan preciso e inteligente.
2. Winning Ugly de The Good Wife.
Dirigido por Rosemary Rodriguez. Escrito por Erica Shelton.
La política es una ciénaga de la que no puedes escapar una vez que mojas tus pies en ella. Winning Ugly es un thriller político de primer nivel. Un episodio durísimo sobre las negrísimas entrañas del sistema político americano. Los partidos están podridos. El régimen electoral también. La democracia es más un simulacro que una realidad. Pocas veces la serie de los King fue tan pesimista. Pocas veces ha dado tanto miedo. Este episodio es espeluznante porque te lo crees, porque transpira verdad por los cuatro costados. ¡Oh Alicia!
1. Person to Person de Mad Men.
Dirigido y escrito por Matthew Weiner.
Después de ver Person to Person me fui a llorar a la ducha. A llorar por el fin de una era. A llorar porque Weiner había cerrado la historia de Don Draper, Peggy Olson y compañía de una forma maravillosa. Person to Person es un capítulo emotivo e ingenioso. Duro y sensible. Escrito con un cariño y una pasión por la perfección admirables. Weiner es un genio. Y lo sabe, por eso tiene un ego que no le cabe en el cuerpo. Esta oda final al teléfono, a las relaciones persona a persona, es fascinante. Sin más. Un guion al que no le falta nada. Inteligente hasta el último fotograma. A priori es el favorito para ganar el Emmy a mejor guion, pero no hay que descartar a Game of Thrones o al otro episodio de Mad Men.