10. You're the worst (FX)
Esta historia de amor entre dos personas que creen ser lo peor, fue una de las nuevas series más interesantes y frescas de esta última temporada. You're the worst es inteligente, ácida y graciosa. Explora con acierto ese momento vital (y emocional) en el que la vida te empuja a una nueva fase y tú caminas desnortado intentando unir los puntos que te llevan a la misma. Es una comedia fantástica.
9. The Mindy Project (FOX)
La serie de Mindy Kalling ha confirmado el salto de calidad que dio en su segunda temporada, firmando una tercera entrega sensacional. De principio a fin. Divertida, emotiva, absurda y, sí, romántica. Una y otra vez hemos visto como buenas comedias se han estrellado contra el enorme reto de afrontar la resolución de la tensión amorosa entre sus protagonistas. The Mindy Project no sólo ha gestionado bien que Mindy y Danny sean pareja, sino que dicha relación ha sido, de largo, lo mejor de la serie. Cuando ambos comparten secuencia esta sitcom vuela.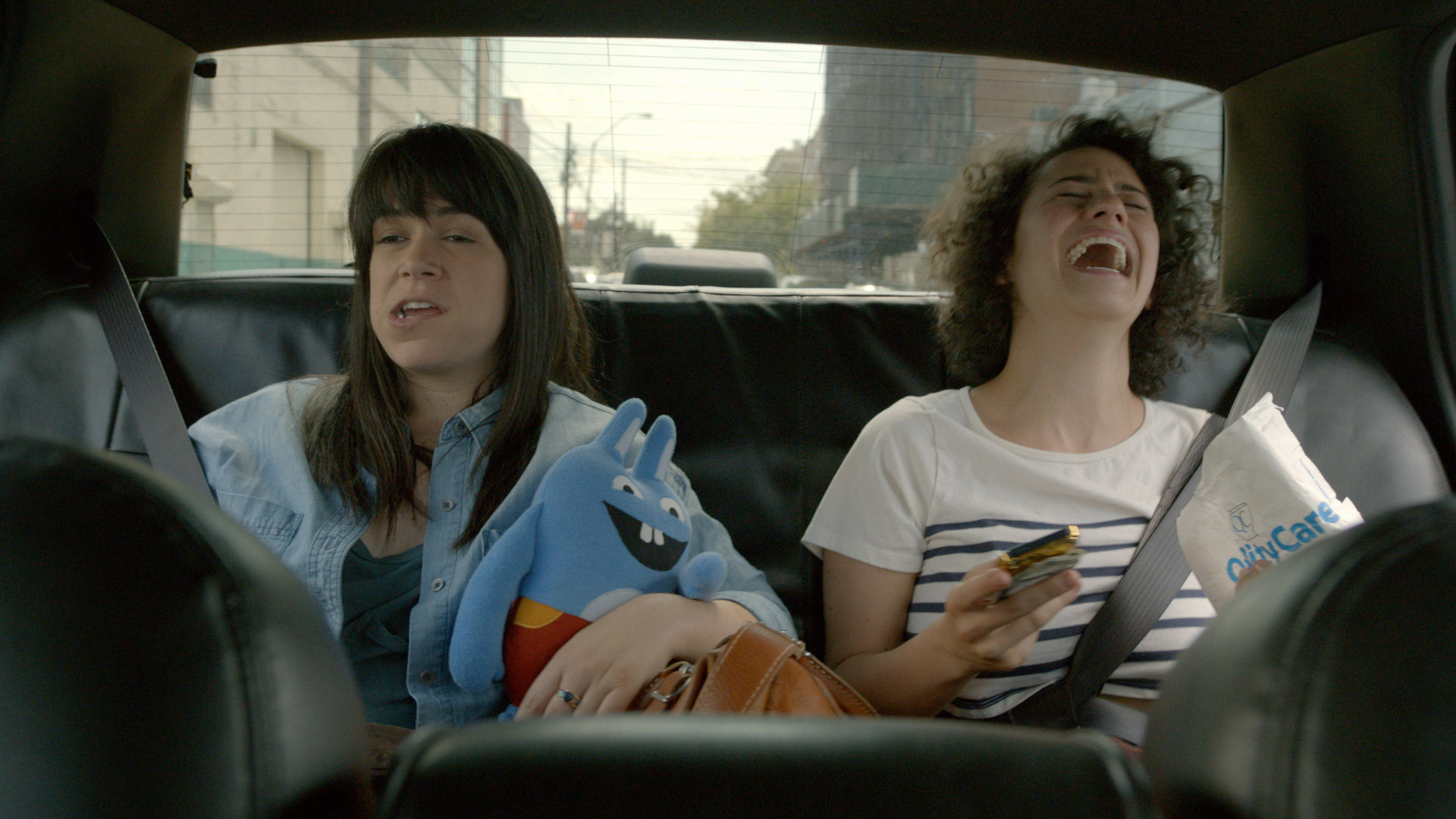 8. Broad City (Comedy Central)
Siempre digo que la forma en que disfrutamos de una serie (o de una peli, o de un libro, etc.) está muy influenciada por condicionantes externos a la misma. Quizás no sea justo para la obra en cuestión, pero es así. A mí Broad City me encanta, de hecho la primera temporada la vi en dos días (y porque intenté contenerme). Pero más me ha gustado compartirla con mis amigas. Poder hacer bromas y referencias, y comentarla tras cada capítulo. Broad City es una serie hecha e interpretada por dos amigas y se nota. Estas dos taradas sumidas en demenciales aventuras son dos personas que me hacen muy feliz. Y compartir dicha felicidad con personas que me importan, hace que aún valore más a esta serie.
7. Looking (HBO)
Muy pocas series me han emocionado tanto como
Looking
este año. El salto de calidad que ha pegado ha sido inmenso. Una pena que no la viera ni dios. Ha madurado muchísimo. Ha sabido explorar los sentimientos, los miedos y los deseos de sus personajes como pocas. A veces cruda, casi siempre emotiva,
Looking
es una serie a la que le he cogido un cariño especial. Echaré mucho de menos a estos chicos de Frisco.
Sobre Looking: Una cartografía de las relaciones afectivas.
6. Shameless (Showtime)
Diría que no ha sido la mejor temporada de
Shameless
, sobre todo porque no ha sido la mejor temporada de Fiona, que al fin y al cabo es su pilar central. Sin embargo la serie ha vuelto a ser fabulosa. Tuvo un arranque un poco torpe, pero a partir de mitad de temporada funcionó a las mil maravillas. Gamberra y desoladora. Así es esta ficción. Es un placer ver a los Gallagher luchando en mil frentes distintos. Y compartir ese visionado con mis amigas, discutir y barruntar sobre lo que pasará, más aún.
Sobre
Shameless
:
No sé dejarme querer
.
5. Transparent (Amazon)
La naturalidad y la sensibilidad con la que Soloway se ha aproximado a la transexualidad en
Transparent
es digna de admirar. La serie es una dramedia familiar inusual, dónde tan importante es el viaje que emprende Maura como la crisis vital en la que viven sus hijos.
Transparent
es, ante todo, una serie sobre la identidad. ¿Quiénes somos? ¿Quiénes queremos ser? ¿De dónde venimos? ¿A dónde vamos? Que dirían Siniestro Total. Cala hondo, porque todos estamos muy perdidos en muchos momentos de nuestras vidas.
Sobre Transparent: Dos excelentes comedias dramáticas de autor.
4. The Comeback (HBO)
En la oscarizada
Birdman
, Emma Stone le escupía a Michael Keaton "es lo que siempre haces, confundes amor con admiración". Y en cierta forma esa sentencia atraviesa la segunda temporada de
The Comeback
de cabo a rabo. Pocas series más valientes hemos visto esta temporada. Pocas por no decir ninguna. La historia del segundo regreso de la actriz de sitcom Valerie Cherish, ha sido incluso mejor que la de aquel primer retorno a la fama.
The Comeback
sigue siendo igual de graciosa e incómoda, pero este año ha leído aún mejor el mundo en el que vivimos. Por eso su calado emocional ha sido mayor. Una enmienda a la totalidad a Hollywood. Un drama descacharrante sobre la fama, el amor y el miedo a esfumarse en un mundo que corre a la velocidad del diablo.
Sobre The Comeback: Love vs. Fame.
3. Veep (HBO)
Veep tiene el honor de ser la serie más cínica de la televisión actual. Su descripción de esa ciénaga que es la política en Washington, es despiadada e hilarante. Esta comedia no deja títere con cabeza. ¿Ideales? ¿Qué es eso? Lo único que importa es aferrarse al puesto, sea como sea. Veep me ha hecho llorar no sé si de risa o de frustración. Estamos muy jodidos. Parece ser Veep y Transparent son las dos principales candidatas a destronar a Modern Family en los Emmys. Ambas se merecerían la victoria. No me cabe la menor duda.
2. Parks and Recreation (NBC)
Redonda. Así ha sido la última temporada de
Parks and Recreation
. Una
master class
de cómo cerrar una serie tan graciosa y entrañable como ésta. Cada capítulo de
Parks
fue un caluroso abrazo. Trece capítulos de regalo para unos fans que nos hemos mantenido fieles a este precioso
happy place
llamado Pawnee. Así da gusto. Ha sido triste despedirse de Leslie y compañía pero la tristeza se ha sobrellevado mejor con tantas risas dulces que nos han proporcionado.
Sobre Parks and Recreation: Pawnee, Indiana: Un lugar llamado Felicidad.
1. Louie (FX)
Es bien sabido que por estos lares Louis C.K. es un profeta y se cree en su serie como si fuera dogma de fe.
Louie
es uno de mis relatos televisivos favoritos. Porque mezcla un tipo de humor que me hace mucha gracia con temas que me preocupan mucho: la madurez, la soledad, la incomunicación, la insatisfacción, la ciudad… Constantemente me veo reflejado en ese hombre de mediana edad perdido en sí mismo y lleno de miedos. Constantemente tengo miedo a las cosas más dispares, pero sobre todo a la soledad. Esa terrible sensación de sentirse solo.
Louie
me hace reír muchísimo, por muy extraño que parezca lo hace, de verdad. Pero también me hace sentirme muy miserable. Me vomita a la cara mis miedos y frustraciones y me hace reflexionar sobre ellos. Es una serie dura. Es una obra de autor mayúscula. Sobre Louie: Estoy viejo para esta mierda.