Actriz de reparto
6. Aubrey Plaza por
Parks and Recreation
Las miradas de odio de April siempre me harán reír. Pase el tiempo que pase. Plaza se apoderó del personaje hasta hacerlo completamente suyo. Es difícil resultar entrañable cuando tu principal actividad es odiar a todo el mundo. Y sin embargo lo consigue. Plaza tiene una mirada muy expresiva y un gran control tanto de su rostro como de su cuerpo. April es un personaje mucho más complejo de lo que podría parecer a simple vista. Gracias por estas siete temporadas Aubrey.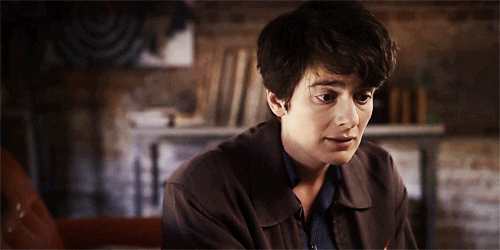 5. Gaby Hoffman por
Transparent
Hoffman consiguió clavarse en la retina de muchos espectadores interpretando a la estrambótica hermana de Adam en la Girls de Lena Dunham. Pero ha sido en la Transparent de Jill Soloway dónde ha logrado confirmarse como una actriz valiente y a tener muy en cuenta. Aquí también interpreta a un personaje en crisis vital constante. Desborda energía y compromiso. Es un trabajo muy completo. Ojalá tengamos Hoffman para rato.
4. Melanie Lynskey por
Togetherness
Lynskey interpreta a una mujer sumida en una doble crisis: una matrimonial y otra vital. Su matrimonio se está muriendo por culpa de la rutina. Su vida va sin rumbo porque no hay en ella nada que la motive. La primera temporada de Togetherness es un viaje de autodescubrimiento para sus personajes. Y de todos esos viajes, el más emotivo y entrañable es el de Lynskey, porque ella le imprime una hondura y una calidez a su personaje muy especiales.
3. Lauren Weedman por Looking
En una serie en la que todo el reparto es masculino, salvo tú, puede resultar difícil encontrar tu sitio. Weedman no sólo lo encuentra sino que además es el personaje más cómico de toda la ficción. Cada frase que dice es una pulla. Tiene una gestualidad muy graciosa. Y además, es capaz de moverse con soltura entre la comedia cínica y el drama intimista. En el capítulo que le han regalado esta temporada da un auténtico recital. Pocos personajes me han hecho reírme más esta temporada.
2. Anna Chlumsky por Veep
Si hay alguien que pueda derrotar a Janney en los Emmys es Chlumsky, sobre todo porque tiene una secuencia fabulosa en la que toda su endeble estabilidad salta por los aires. Más contra las cuerdas que nunca, Chlumsky ha firmado su mejor temporada en Veep. Ella es la voz de la cordura que se deja pervertir por el circo que la rodea. Casi como si fuera la Lisa Simpson de Veep. Es un pilar fundamental de la serie.
1. Allison Janney por Mom
Lo de Janney en Mom es un festival non stop. Da igual que sean secuencias con chistes de coños o droga, o escenas de fuerte carga dramática. Ya da igual. Borda lo que le echen. Está a otro nivel. Si en la primera temporada estuvo fantástica en esta segunda entrega aún ha estado mejor. Siempre hilarante y a veces desoladora. La vida, esa cabrona.
Actriz
6. Amy Schumer por Inside Amy Schumer
¿Hay alguien más de moda en el panorama audiovisual americano que Amy Schumer? Posiblemente no. Schumer ha logrado llevar debates de rabiosa actualidad como el de violación a la televisión, ofreciendo un punto de vista personal, agrio y polémico. Como actriz-presentadora ha demostrado una gran vis cómica y un compromiso enorme con sus propias ideas. Inside Amy Schumer es, casi siempre, un salto sin red.
5. Mindy Kalling por The Mindy Project
Otra actriz que hace prácticamente de sí misma en su propia serie es Mindy Kalling. La cómica tiene el honor, en mi humilde opinión, de ser la jefa de la mejor sitcom de la pasada temporada. Más allá de lo bien escrita que está The Mindy Project, gran parte de su éxito radica en la química imposible entre Kalling y Messina y en el carisma y vis cómica de ella. Todo un triunfo.
4. Emmy Rossum por Shameless
Mi idolatrada Emmy Rossum baja del primer puesto que le di el año pasado a este cuarto puesto, no es que ella no haya estado tan bien como siempre, es que ha sido la peor temporada de su personaje, la gran Fiona Gallagher. Su trama a ratos resultó demencial. Sin embargo Rossum brilló siempre que su personaje acabó acorralado emocionalmente. Está muy rota y aún estamos muy lejos de que se reconstruya. Emmy Rossum sigue teniendo la mirada más triste de la televisión y la sonrisa más luminosa. ¿Qué más se puede pedir?
3. Julia-Louis Dreyfuss por Veep
Frente a nuevas generaciones de cómicas (en esta lista hay unas cuantas), Dreyfuss sigue insistiendo en Veep que ella es la reina. Por cuarto año consecutivo camina con paso firme hacia la victoria en esta categoría en los Emmys. Sus principales amenazas son la pujante Schumer y la consagrada Poehler. Aún así, yo no apostaría contra Dreyfuss. Esta temporada ha vuelto a estar fantástica: incómoda, descacharrante, absurda, odiable y patética. Ha conseguido convertir a Selina Meyer en un icono, el retrato definitivo de los políticos que son la nada más absoluta.
2. Amy Poehler por Parks and Recreation
Si Selina Meyer es un icono, Leslie Knope no se queda atrás. Y paradójicamente representa todo lo contrario a Meyer: los ideales, la inteligencia y el trabajo duro. La obsesiva y optimista Leslie Knope que compone Amy Poehler es uno de los grandes personajes de la historia de las sitcoms. Así de claro. Es bastante vergonzoso que al igual que le pasó a Steve Carell por The Office, Poehler vaya a quedarse sin haber ganado el Emmy. Da igual, ha ganado un billete a la historia y sobre todo al corazón de millones de personas. Su victoria me haría muy feliz, aunque no sea mi primera opción.
1. Lisa Kudrow por The Comeback
Mi candidata a la victoria es Lisa Kudrow. La increíble, inmensa, osada y arrebatadora Lisa Kudrow de The Comeback. Pocos trabajos ha habido este año más comprometidos y arriesgados. Lisa Kudrow no es Valerie Cherish, pero podría haberlo sido. Una estrella de sitcoms en decadencia obsesionada con volver a triunfar, obsesionada con el amor del público. Kudrow logra ser a la vez tierna y patética. Desternillante y dramática. Supura una tristeza y una melancolía terribles pero también una pasión y una inocencia maravillosas. Está fabulosa, es imposible no reírte con/de Cherish y emocionarte con ella. Es todo un striptease interpretativo. Siempre será recordada por ser Phoebe pero el gran papel de Kudrow es éste.