Actriz de reparto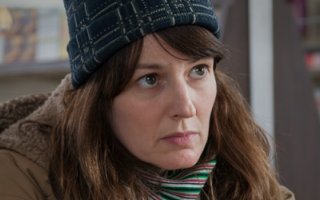 6. Rosemarie DeWitt por Olive Kitteridge
Siento debilidad personal por Rosemarie DeWitt, es una actriz que me fascina desde que la vi en Rachel Getting Married. En Olive Kitteridge encarna a una madre depresiva que no es capaz de lidiar con su vida y de cuidar y proteger a su hijo. Es un papel tristísimo y ella lo dota de esa melancolía que desprende su rostro, incluso cuando está sonriendo. Me dejó, como siempre, con ganas de más.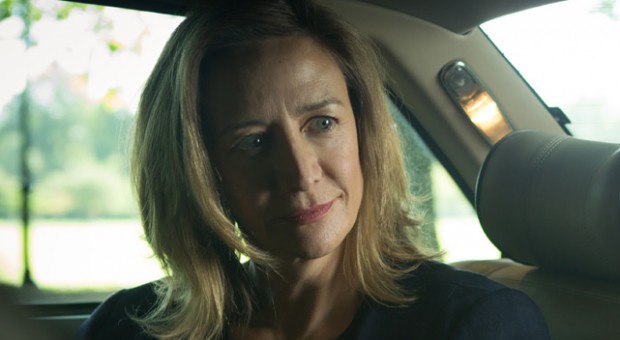 5. Janet McTeer por The Honourable Woman
Pocas presentaciones necesita una actriz con dos nominaciones al Oscar a sus espaldas como McTeer. La veterana actriz inglesa vuelve a demostrar que es una fabulosa actriz de reparto, exprimiendo al máximo el complejo y escurridizo papel de jefa del servicio secreto que le regalan en The Honourable Woman. Se mantiene siempre en la retaguardia, haciéndonos dudar. El infinito poder de la duda.
4. Claire Foy por Wolf Hall
Hemos visto, a estas alturas, a muchas Anne Boleyn, y aún así Foy logra que creamos que es la primera vez que vemos a esta mujer. Ella y su sensualidad perversa, casi malsana. Es peligrosa e hipnótica. Foy ha construido una gran villana. Y las villanas en el audiovisual son pura gasolina.
3. Zoe Kazan por Olive Kitteridge
Deliciosamente odiosa. Así es el personaje de Kazan y, sobre todo, así lo logra ella transmitir, con su sonrisa y su bondad infinita. Kazan consigue que nunca estemos seguros del todo de si su personaje es así de inocente como nos hace creer o tiene un fondo oscuro. Podría resultar extremadamente simple y sin embargo no lo es, es un subidón de azúcar que viene a enrarecer la relación entre la pareja protagonista.
2. Regina King por American Crime
Fabulosa. King está fantástica como la hermana de un hombre negro detenido por haber asesinado, teóricamente, a dos blancos. Religión y conflicto racial se dan de la mano en un personaje frío como el hielo, enfurecido, completamente desencantado. King le imprime una rabia que impresiona. Huffman o Hutton están muy bien pero la auténtica reina del casting de American Crime es ella. Si alguien puede evitar que Sarah Paulson gane el Emmy que la Academia le debe desde hace tiempo es ella.
1. Lubna Azabal por The Honourable Woman
Todos aquellos que hayan visto Incendies, el terrible drama con el que Denis Villeneuve se dio a conocer en todo el mundo, saben ya que Lubna Azabal es una actriz monumental. Pues bien, en esta miniserie británica viene a confirmárnoslo, al encarnar otro papel extremo, imperturbable en su demolición interior. Una mujer maltratada por la vida, por un conflicto, el árabe-israelí, terrible, que le ha robado todo, incluso los sentimientos.
6. Queen Latifah por Bessie
Para no pocos analistas de los Emmys si hay alguien que puede arrebatarle la victoria a Frances McDormand es Queen Latifah, gracias a su salvaje interpretación de la cantante de blues Bessie Smith. A su favor tiene que el telefilm está hecho para su completo lucimiento, en su contra, que dicho telefilm no está a su altura, lo cual termina por deslucir, un poco, su trabajo. De todas formas no se le puede negar entrega y carácter.
5. Kerry Godliman por Derek Special
Ella es la voz de la cordura en esa comedia negrísima, a la par que entrañable, que es Derek. En el capítulo de despedida de la serie, Godliman es todo amabilidad y cariño. Funciona tanto en su vertiente dramática como en la cómica y eso que su personaje haces las veces de "straight man" (straight woman, por lo tanto) en el show de Ricky Gervais y David Earl.
4. Felicity Huffman por American Crime
Tiene mucho mérito enfrentarse a un personaje tan desagradable, con el que resulta tan difícil de empatizar, de sentimientos tan inaccesibles y tan obstinado. Y eso es lo que hace Huffman al construir a esta dolorosa madre a la que le han asesinado a su hijo. Y lo hace con entereza, madurez y pasión. Mis respetos a una de las grandes actrices de la televisión americana.
3. Frances O'Connor por The Missing
De madre en duelo a madre en duelo. Si a Huffman le asesinaron a su hijo, el de O'Connor ha desaparecido. Y tras esa desaparición llega la ruptura de su matrimonio y el intento de levantar una nueva vida, lejos del dolor. Sin embargo el pasado regresa para volverla a poner contra las cuerdas. Frágil y rabiosa, O'Connor borda un personaje que navega por una catarata de sentimientos. Un trabajo que le permite lucirse.
2. Maggie Gyllenhaal por The Honourable Woman
Encabezan esta lista dos de las mejores interpretaciones televisivas de la temporada. En el segundo puesto he colocado a Maggie Gyllenhaal. La extraordinaria Maggie Gyllenhaal de The Honourable Woman. La actriz interpreta a una empresaria británica de origen israelí que se ve atrapada en medio del conflicto entre Israel y Palestina, con Estados Unidos y Reino Unido maniobrando en la sombra. Es una interpretación tan sutil como desgarradora. Quizás el mejor papel de su carrera. A mí su entereza, dignidad y traumas me dejaron roto.
1. Frances McDormand por Olive Kitteridge
No menos impactante emocionalmente es la Olive Kitteridge que construyó Frances McDormand en la miniserie homónima de HBO. De hecho creo que es uno de los personajes más densos sentimentalmente que he visto en mucho tiempo. Esta profesora incapaz de exteriorizar sus sentimientos, que está siempre a la defensiva, agazapada en su ironía es devastadora. Tras Fargo es lo mejor que le ha pasado a McDormand en toda su carrera. Un trabajo sensacional. Que se nota que está ejecutado desde las entrañas. McDormand entiende a Kitteridge y la abre en canal ante nuestros ojos.