10. 24: Live another day (FOX)
Volvió Jack Bauer y con él volvieron todas las contantes del formato 24: acción a raudales, malos malísimos, politiqueo de alcantarilla, topos y macro-conspiraciones. Tras una primera mitad bastante anodina dónde nos estuvieron enredando en un ataque islamista sin mucho nervio, pasamos a una segunda parte soberbia, al nivel del mejor 24. Nunca, jamás, te fíes de los rusos (primera mención).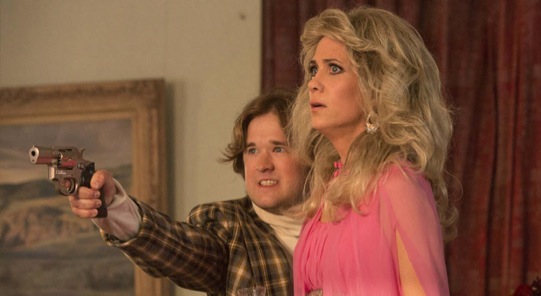 9. The Spoils of Babylon (IFC)
Cuando hice mis Emmysalternatives ya dije que la gracia de esta miniserie residía en lo travieso que es su propio concepto. Hacer una parodia de las películas río- bigger than life, tipo Giant (Stevens, 1956), en formato miniserie/sitcom con capítulos de 20 minutos y humor muy absurdo. A mucha gente le parecerá basura. A mí me hizo llorar de risa.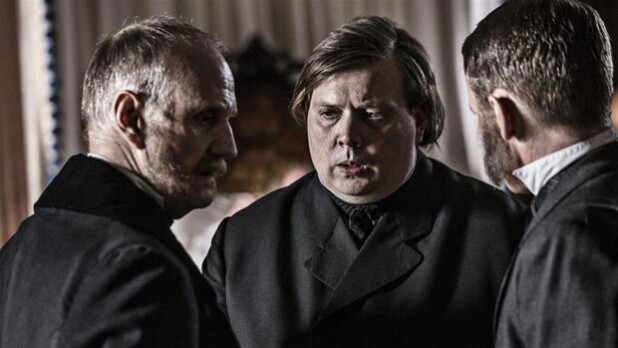 8. 1864 (DR)
Quizás estemos ante la serie que más se desinfló en el 2014. El equipo de (todos en pie) Borgen haciendo una enmienda a la totalidad de la historia reciente de Dinamarca, era desde luego un must see de este año. Hasta el 6 capítulo rayó a un nivel soberbio, sobre todo cuando reflejaba lo enfermos de poder que estaban los políticos daneses, que se creían bendecidos por el poder divino. "Y del cielo bajó la bandera danesa, somos el pueblo elegido". Sin embargo cuando nos enfrascamos de llenos en la guerra prusiano-danesa la serie empezó a deshilacharse, básicamente porque el triángulo amoroso central era previsible y carecía de toda profundidad. Una pena. Aún así es una serie interesante porque abre muchos terrenos de debate ligados a la religión y sobre todo a los conceptos de nación y estado.
7. Sonic Highways (HBO)
Esta miniserie documental sigue a los Foo fighters a lo largo de 8 capítulos, en el proceso de grabar su nuevo álbum, por 8 de las ciudades americanas más importantes en el terreno musical. De Los Ángeles a New York, pasando por Chicago o Nashville. Es un viaje por la cultura musical yankee. En una hora de duración no se puede ahondar demasiado en el alma de cada ciudad y de la música que la recorre, aún así es una miniserie muy interesante. Mi capítulo favorito, claro está, el de New Orleans.
6. The Game (BBC America)
Otra historia de espías en la Guerra Fría. Y otra que vuelve a funcionar, sobre todo en sus 3 últimos capítulos. El formato parece ser eterno, y con el regreso de las tensiones entre Occidente y Rusia, está más vivo que nunca. Una conspiración soviética fina y elegante para apoderarse de UK. Oh sí.
5. Cosmos: A SpaceTime Odyssey (FOX)
Había ganas de ver el nuevo Cosmos, una serie documental de entretenimiento sobre lo que es la ciencia en nuestros días. Y por lo menos a un servidor, no lo defraudó. Una bonita e inteligente forma de acercar a las nuevas generaciones al fascinante campo de la investigación científica. ¡Qué inmenso es el universo y qué perdidos estamos en él!
4. P'tit Quinquin (ARTE)
Sin duda alguna, la miniserie de autor del año. La tan sublime como ridícula P'tit Quinquin, del casi siempre delirante Bruno Dumont, uno de los grandes enfant terribles del cine actual. Mi experiencia previa con Dumont era bastante mala tras ver ese despropósito de nadería que es Hors Satan y, ese policíaco imposible llamado L'humanité. En esta miniserie para el canal ARTE vuelven a estar todos los elementos habituales del cineasta: lo incomprensible, lo incómodo, lo feo, lo aleatorio de la vida en un ambiente rural muy enfermo. Pero salpicado por secuencias soberbias, como la del arranque o la de la misa. P'tit Quinquin a veces te hará reír, siempre te turbará.
3. The Normal Heart (HBO)
He aquí la pequeña trampa de la lista. The Normal Heart no es una miniserie, es un telefilme, pero no me parecía bien dejarla fuera de la lista, porque desde luego la película de Ryan Murphy para HBO ha estado entre lo mejor del año. Las luchas dentro de la comunidad gay sobre la estrategia a seguir para combatir la epidemia del SIDA en los 80 era un tema poderoso, pero también peligroso. The Normal Heart lo afronta con sensibilidad pero también con dureza. ¿Nos faltaron cojones? Seguramente sí.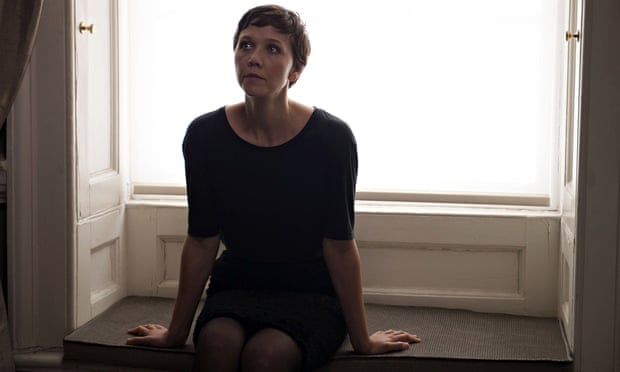 2. The Honourable Woman (BBC/Sundance Channel)
Si hice esta lista, además de porque soy un jodido enfermo obsesionado con hacer listas, fue porque había dos miniseries que necesitaba mentar como lo mejor del año. La primera es esta coproducción entre BBC y Sundance Channel, escrita y dirigida por Hugo Blick (The Shadow Line). A través de 8 capitulos el thriller de espías, el thriller político, el drama psicológico y el drama familiar se van fundiendo hasta alumbrar una de las grandes sorpresas del año seriéfilo. La brutal historia de una mujer (Maggie Gyllenhall, descomunal) que lucha por conseguir la paz entre Israel y Palestina, mientras arrastra su terrible pasado, y se ve apaleada en medio de una guerra con intereses económicos y políticos de por medio. En The Honourable Woman no vemos un "buenos contra malos". La política internacional es mucho más compleja que eso. Para lograr la paz hay que derramar mucha sangre antes.
1. Olive Kitteridge (HBO)
Una de las ficciones que más me han impactado este año. Por no decir directamente que esta miniserie dirigida por Lisa Chodolenko ha sido el drama que más me ha destrozado en 2014. La historia de una mujer incapaz de exteriorizar sus sentimientos y que emplea el cinismo como escudo. Triste, delicada, inteligente, dura, profunda. Todo eso es Olive Kitteridge, tanto la ficción como el propio personaje que en una especie de milagro interpretativo encarna Frances McDormand. La mejor interpretación femenina del año, con permiso de Julianna Margulies y la anteriormente mentada Maggie Gyllenhaal. Sin duda alguna una de las mejores miniseries que ha hecho HBO. Y eso son palabras mayores. Si yo votara en los Golden Globes, optaría por ella antes que por True Detective y Fargo. Sí, lo he dicho.