MAD MEN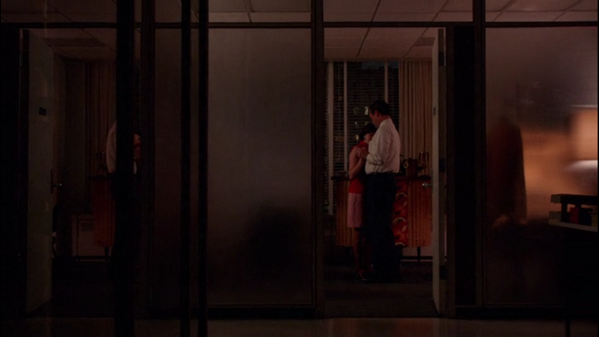 But more, much more than this, I did it my way
A partir de aquí, spoilers, o algo que se le asemeja
Estos dos últimos capítulos de este primer tramo de temporada, Matthew Weiner los planteó sabiamente como un díptico que ha tenido como hilo conductor la campaña para una empresa de comida rápida. Así, el penúltimo capítulo, The Strategy (7x06) lo reservó para la gran cima emocional de la temporada, con la reconciliación de Don y Peggy, una reconciliación en la derrota. Tras haber dado muchos tumbos y haber realizado muchos sacrificios, al final aquí estamos, solos. Solos ante la incertidumbre.
Peggy: ¿Qué cosas te preocupan?
Don: Que nunca he hecho nada, y que no tengo a nadie
Peggy: Estuve en Ohio, Michigan, Pennsylvania. He mirado por la ventana en muchas estaciones de tren. ¿Qué he hecho mal?
Don: Lo estás haciendo genial
Peggy: ¿Y si hubiera un lugar dónde puedes ir, dónde no hubiera televisión, pudieras partir el pan y las personas que estuvieran sentadas contigo fueran tu familia?
(suena... and now, the end is near, and so I face the final curtain...)
Mientras que el último episodio se desarrolló en dos planos entrelazados por el devenir de los personajes: el íntimo y el laboral. En el íntimo afrontó las consecuencias de la catarsis emocional que supuso para Don y Peggy su conversación. Tras vagar por el desierto durante toda la temporada, los protagonistas (a estas alturas cuestionar que Mad Men es la historia tanto de él como de ella, es absurdo) saben ya lo que quieren. Quieren una vida de verdad. Una vida palpable. Una vida que sea capaz de conciliar la esfera artístico-profesional con la sentimental-familiar. Peggy empieza a sentir en su interior que quizás está preparada ya para formar una familia, abrir un espacio en su vida más allá de su ambición profesional. Don y Megan comprenden que su matrimonio se ha terminado. Tras mucho tiempo engañándose a sí mismos firman en palabras y silencios la claudicación definitiva. Por teléfono, con una dulzura desoladora. Sin gritos, sin reproches, desde el más hondo cariño. Pero… el cariño no lo es todo.
Tras hablarnos de familias rotas por padres adúlteros y egoístas, trabajos acaparadores e incomunicación personal, estos últimos capítulos apuntan hacia la idea de que, al final del día, al final de la vida profesional, lo que te quedará será la familia. Sí, hay problemas ahí fuera. Vietnam al fondo como dice Peggy en la presentación de la campaña. Pobreza, problemas en el trabajo… al fin y al cabo aquella época (finales de los 60) fue muy convulsa en Estados Unidos, quizás su mayor época de crisis desde la Gran Depresión, lo cual nos permite trazar un paralelismo con nuestra crisis actual, que además de económica tiene mucho de social, política e incluso moral, de valores. Sí, hay problemas, pero, dice Weiner, el amor (no el cariño del que hablábamos antes, el amor) puede sobreponerse a ello. El amor es gratis, sólo hay que saber cultivarlo. El inagotable y resplandeciente espíritu humanista de Mad Men.
El otro tablero en el que jugó Waterloo (7x07) (y en realidad toda la temporada) fue en el laboral, en el de los juegos de poder en la agencia. La season finale de la sexta temporada nos había dejado a un Don Draper en proceso de redención, tras su catarsis emocional en una reunión con clientes. Aquel putero, alcohólico, destructivo e inane hombre llegó al colapso final. Y en el punto más bajo, la disyuntiva con la que se enfrentó Don fue ¿regenerarme o morir? Y eligió la primera. Esta primera parte de la última temporada ha contado el proceso de expiación de Don Draper, en el plano emocional, con respecto a Peggy, Megan y Sally (el road-trip que se marcaron en el 7x02, A Day's Work, fue una de las tramas mejor y más sentidamente escritas de la temporada televisiva). Y en el laboral, su lucha por recuperar su puesto de trabajo, tras verse forzado a abandonarlo por lo sucedido en aquella reunión en la que se inmoló ante nuestros ojos. Así, alejados del Don Draper poderoso y seguro de sí mismo, el hombre que tenía el despacho con vistas, hemos podido ver a un hombre luchando contra sí mismo y contra sus pecados. Ha sido un proceso doloroso, en el que ha sido humillado y ninguneado por sus enemigos internos, Lou (su sustituto) y Jim Cutler (el reverso controlador de Roger Starling) y abandonado por sus aliados (Joan y hasta la reconciliación, Peggy). Don Draper siempre ha estado muy solo, pero nunca nos lo habían mostrado tan pequeño.
Simplemente sublime
Justo al final de la partida de poder, cuando Cutler está a punto de hacerse con el total control de la agencia, con Don y Roger acorralados, la muerte de Bertram Cooper, y la última conversación que mantuvo con él, provocan una catarsis personal para Starling. Y de esa catarsis, que en realidad ya había empezado en The monolith (7x04), cuando intentó convencer a su hija de que retomara sus obligaciones como madre, nace la necesidad de trascender. De escupirle a la cara al cadáver de Cooper "ves como puedo tener una visión, ser un líder". De tal forma que monta un plan para vender el 51% de la empresa a una de sus viejas rivales, manteniendo su independencia, salvaguardando el puesto de Don y restableciendo su posición de director de la orquesta. Sin embargo, para ello necesita que en el acuerdo entre, además de Don, un Ted Chaough que parece una mala copia del Don Draper totalmente perdido en su interior de la anterior temporada. Y así se produce la última de las rupturas frente a la desolación, el último de los regresos desde la nada vital. Don convence a Ted y se abre así el escenario de lo que será el final de Mad Men. Un escenario optimista. De un optimismo humanista hermoso, delicado, sentido. Por mucho que quiera a otras series, por mucho que me fascinen, por mucho que las admire, ninguna me hace sentir lo que me hace sentir Mad Men. Ninguna es tan certera en su retrato del ser humano, de sus miserias y de sus sueños, rotos unos, cumplidos otros. Ninguna hace de la desolación emocional poesía. Sólo Mad Men, esa serie capaz de estallar en carcajadas (la trama del pezón de Ginsberg es lo más maravillosamente delirante que se ha escrito este curso en televisión) y destrozarte el alma acto seguido (la última secuencia de la serie hasta 2015, como paradigma), con la frase adecuada, con el gesto preciso. En Mad Men no pasa nada (salvo en las finales, en esos capítulos pasa de todo), simplemente pasa la vida. Y, joder, qué difícil es de capturar la vida.
PD1: Betty ha estado desternillante este año entre el "mis hijos no me quieren" y el "debemos seguir en Vietnam".
PD2: Ya que AMC va a hacer un spin-off de Breaking Bad, bien podía animarse a hacer uno sobre Sally Draper, sus cardados, sus miradas de asco y su nueva faceta de corruptora de nerds.